FREE RETURNS: In Store for 28 Days
CLICK & COLLECT: Ready within 30 minutes
BULK TRADE DISCOUNTS: Available Online
Underfloor Heating Carpet Underlay
Please check with your heating installer, but you are usually limited to having a combined tog rating of around 2.5 for the carpet and underlay with underfloor heating. We have put together the three underlays that have been designed for this type of heating which guarantees a problem free heating solution.
CHOOSING THE BEST CARPET UNDERLAY FOR UNDERFLOOR HEATING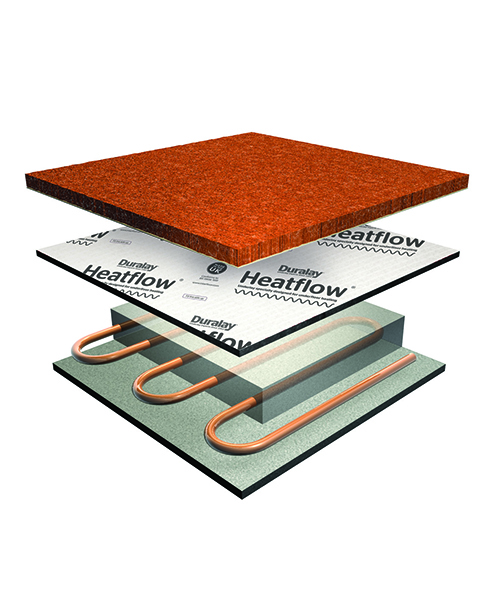 Do I need special underlay for underfloor heating?
You need to choose the best underlay to enhance the comfort of your flooring and the effectiveness of your underfloor heating. The type of underfloor heating you have, the material your flooring is made from and the tog rating of your underlay are all important considerations when choosing the best underlay for underfloor heating.
Types of underfloor heating
Firstly, there are three main types of underfloor heating to choose between. These include Hydronic (or wet) underfloor heating. This uses a series of pipes, which are laid under the floor. Hot water is then pumped through them to warm your flooring.
There is also Forced Air underfloor heating. As its name suggests, this uses warm air, which is passed through a series of ducts that are laid under your flooring. Finally, there is Electric (or dry) underfloor heating. This uses a conductive cable, which is laid under your flooring. This is then warmed by passing a current through a wire: exactly like an electric blanket. The heating element is usually laid in a pattern onto your subfloor and we do not recommend you use an underlay with Electric (or dry) types of underfloor heating systems.
If you opt for Hydronic or Forced Air underfloor heating there are two main considerations when it comes to selecting your underlay. The first thing you will need to think about is the tog rating of the underlay. This must be below 1.0 in order to ensure that enough warmth gets through to your flooring. After all, if you can't feel the comforting warmth on your bare feet, there isn't much point in investing in underfloor heating in the first place.
Which underlay is the best for underfloor heating with carpet?
The best underfloor heating underlay for carpet is Tredaire King. Its low tog rating allows efficient heat transfer through your carpet and into your home. As well as being an excellent thermal conductor, It also feels luxurious underfoot, having a comfort rating of 5. And, with a sound insulation rating of 42db, it will reduce noise from your flooring.
Our Heatflow Carpet underlay is also excellent choice for carpet underlays with underfloor heating.
What is a tog rating?
When choosing carpet underlay for underfloor heating, the tog rating is something you need to consider. It's the thermal resistance of an underlay. The lower the tog rating of a product, the lower its thermal resistance is. Having a low thermal resistance means that more warmth can pass through the underfloor heating underlay and into your home. Although a rating of less than 1.0 is normally sufficient, the lower the tog value of the underlay, the better. If you are looking for an underlay for underfloor heating in combination with a carpet, this is quite a specialist requirement. We would suggest a target tog should be 0.8 or less. If you are wanting an underlay for hard flooring, then a tog rating of less than 0.4 is ideal.
Another consideration is the ability of the underlay to withstand the direct heat from the underfloor heating system. Some can end up drying out or crumbling when exposed to heat, which will ultimately cost you more time, money and hassle in the long run. It is therefore crucial that you choose the right underlay the first time.
No 1 Tredaire King 0.8Tog Carpet Underlay